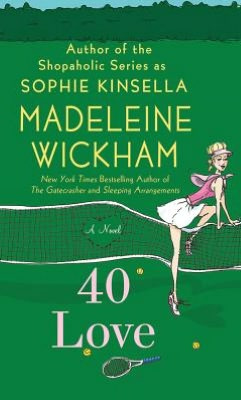 With the exception of the Shopaholic series, which has dragged on for far too long in my opinion, I love everything Madeleine Wickham writes as Sophie Kinsella. I've tried listening to a Wickham book before and didn't get very far with it, but I picked up
40 Love
and decided to give it a read. Though not as chick lit-y as when she writes as Kinsella, the same biting sense of humor comes through.
Patrick and Caroline Chance are hosting a weekend tennis tournament at their home. For Caroline, it's a chance to reconnect with friends from their old neighborhood, but Patrick sees it as a chance to sign new clients. Mind you, it's not that Patrick needs any more money. Their family isn't struggling in the least, he's just aiming for a bigger bonus.
Their weekend guests include Stephen and Annie and their daughter, Nicola. With Stephen still working on his PhD dissertation and Nicola recovering from a stroke, the family doesn't have much money. Then there's the wealthy Charles and Cressida Mobyn. When they all lived on the same block, Charles was married to the mousy Ella, but he left her for the wealthy Cressida, elevating his status in life. It's unclear if Charles is more enamored with Cressida's money and what it can do for him or her. Rounding out the group are two of the Chances' new neighbors, the insufferable Don and his equally insufferable daughter, Valerie.
From the beginning, you can tell that no one's marriage or home life is as happy as it seems. Stephen is tired of being broke all of the time; Cressida has never concerned herself with money, but receives a letter that makes her believe she should; Don has purchased a hotel and has no idea of how to run it; and Patrick's greed stands to ruin his relationship with Caroline. Before the weekend is over, everyone's secrets will be revealed and the fallout will not be pretty.
With writing and scene setups that seem reminiscent of Oscar Wilde's
The Importance of Being Earnest
,
40 Love
is a perfectly delightful read. The most clever lines are saved for 11 year old Georgina, Patrick and Caroline's daughter, who provides comic relief like a Shakespearean character. A Wickham book requires the reader to keep up with more characters than a Kinsella book, but it's as equally entertaining.
288pp
Published: August 2011
Theme: You Learn by Alanis Morrisette